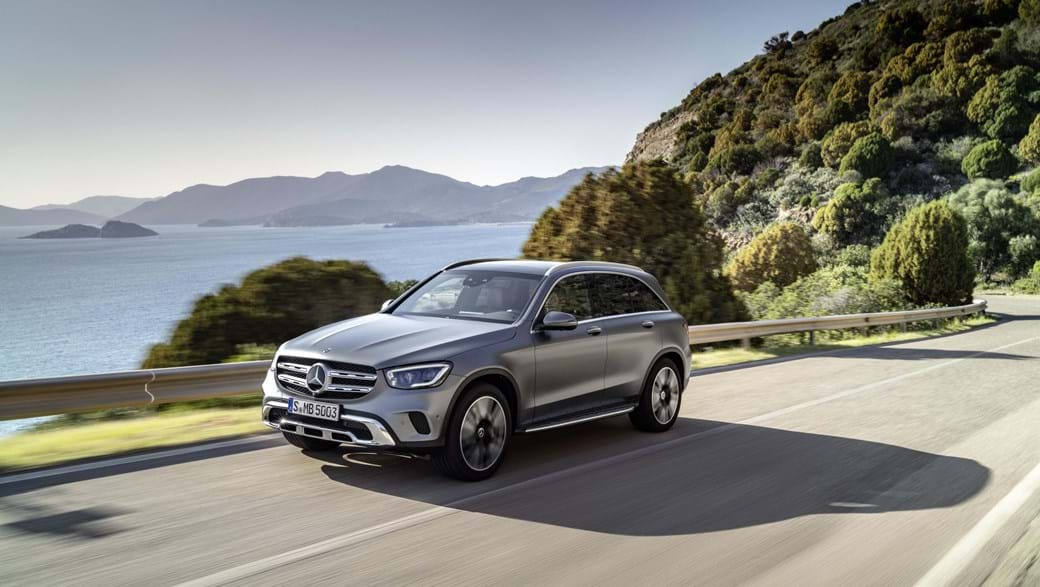 The ever-popular Mercedes-Benz GLC gets a facelift and will be available to order from Synergy in the coming months. Jonny Edge tells us what to expect from the updated SUV.
Synergy customers love the Mercedes-Benz GLC, we know that because they tell us on a frequent basis and so we already know that they're going to love the updated GLC that's due to arrive in the coming months.
Revisions have begun with the exterior styling which has received a little tweak to make it look slightly like the new A-Class around the front, but the primary focus for Mercedes-Benz has been on improving technology and updating the engines.
The initial cars will be available only with power taken from 2.0-litre 4-cylinder turbocharged diesel units, updated and improved for the facelifted model. These cars – badged '220d' and '300d' differ only in power outputs, with the former producing 191bhp and the latter providing 242bhp. Though the 300d does give you 50bhp more than the 220d, it doesn't have as much of an efficiency penalty as you might expect. On a combined cycle, Mercedes claims it should be capable of a touch over 39mpg, while the 220d sips just a little more frugally at around 41mpg. Engineers have paid particular attention to the emissions of both engines, with CO2 outputs improved over the outgoing model, varying between 137g/km in the 220d SUV to 159g/km in the 300d Coupe. Towards the end of the year a petrol model will be introduced, and a plug-in hybrid system is also said to be on the way.
Trim levels for the new GLC will sound familiar to anyone who knows Mercedes – with 'Sport' and 'AMG-Line' present across the Mercedes range. Sport will be the entry-level trim for the 220d SUV, and will come as standard with the 'MBUX' multimedia system – the one that lets you say 'Hey Mercedes'  to begin voice activation – parking assistance with a reversing camera, a 10.25-inch touchscreen display, a 5.5-inch instrument cluster display, heated front seats, privacy glass, 'Agility Control Comfort' suspension and 18-inch alloy wheels. AMG-Line will form the entry-level trim on 300d and Coupe models and will feature AMG styling tweaks, sport seats and a sportier suspension.
From there, Mercedes has decided to add further words in addition to 'AMG-Line' to reflect the amount of additional equipment included, with 'Premium', 'Premium Plus', and 'Premium Plus Ultimate'. The more words, the higher the spec and some of the equipment you can find in these models includes LED headlights, digital instrument clusters, ambient lighting, augmented navigation, smartphone integration, panoramic glass sunroof, a Burmester surround sound system, keyless-entry and more. Only the top-spec cars will feature air suspension.
Lastly, a driving assistance and safety package will be available as a cost option and will assist with distance control, steering, braking and staying in lane. It will also offer blind spot monitoring and speed limit assistance, so is expected to be a popular option with our customers. Of course, this is going to be a popular car full-stop.