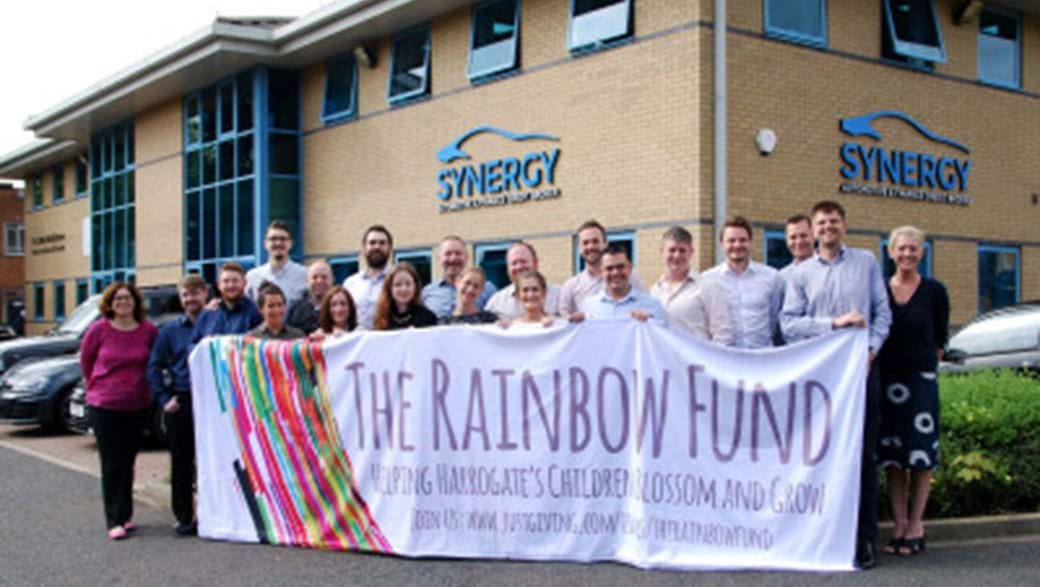 Synergy Automotive – one of the UK's leading vehicle leasing and finance credit brokers – has been named as the exclusive corporate partner of The Rainbow Fund, which works tirelessly to provide vital equipment for the children's department at Harrogate District Hospital.
The business – which has been awarded Gold Trusted Merchant status from the global feedback engine Feefo for achieving a 100% customer service rating for two consecutive years across 2015 and 2016 – has pledged to raise a minimum of £5k for the charity across a 12-month period.
Fundraising activities will include members of Synergy Automotive's 25-strong team tackling the Yorkshire Warrior Wild Waters race on 24th September at Ripley Castle – a tough challenge set against a muddy lake, high castle walls, woodland, kilometres of trenches and purpose-built obstacles – and hosting a 10th anniversary charity fundraising auction and raffle later this year.
Monies raised from the activities and donated to The Rainbow Fund will enable the Harrogate and District NHS Foundation Trust to purchase a blood pressure machine and an exhaled nitrous oxide machine – two key pieces of equipment for the children's outpatient department.
Spearheaded by a group of parents who have all been helped in one way or another by the wonderful staff in the children's departments (Special Care Baby Unit, Children's Outpatients and Woodland's Ward) at Harrogate Hospital, The Rainbow Fund has raised £68,343 since launching its fundraising campaign in February 2016. The fundraising goal is to achieve £150,000 in 2016.
Said Alexandra Vere, founder and fundraising volunteer: "I am absolutely thrilled that Synergy Automotive has agreed to be our corporate partner and raise funds for vital equipment which will be given to the Children's Outpatients Department at Harrogate Hospital.  Every penny raised for The Rainbow Fund, as a local charity run by volunteers, goes directly to a piece of equipment which will significantly improve the way a baby or child is cared for at Harrogate Hospital."
Synergy Automotive MD, Paul Parkinson, commented: "Synergy Automotive is delighted to support The Rainbow Fund, a local cause very close to our hearts. The team at Synergy are excited by the events we have lined up and the money we raise will play a key role in helping The Rainbow Fund achieve its wider vision. We are looking forward to a very successful and special partnership with Alex and the team."
This article appeared in the following publications: