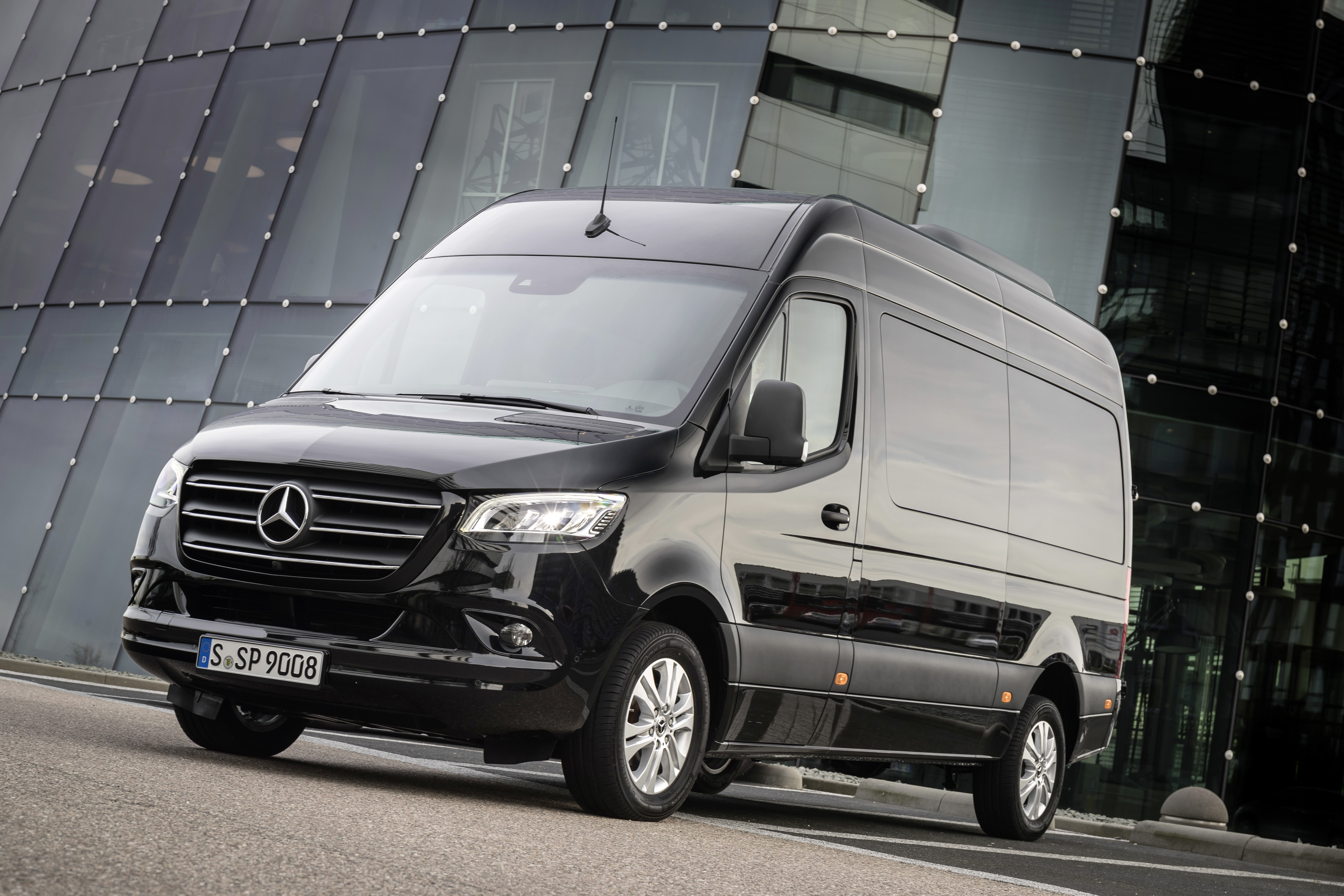 Fleet test part 3: Mercedes-Benz Sprinter
SPRINTER STATISTICS
LOAD LENGTH (FLOOR): 4307mm
MAXIMUM LOAD WIDTH: 1787mm
MAXIMUM LOAD HEIGHT: 2243mm (in 'H3' height)
MAXIMUM PAYLOAD VOLUME: 17m³
MAXIMUM GROSS VEHICLE WEIGHT: 3500kg
MAXIMUM PAYLOAD: 1153kg
The Mercedes-Benz Sprinter is one of the great names in the van market – more than 3,000,000 have been sold since its introduction in 1995 and is sold in over 130 countries across the world. The new generation was launched just a few months ago and Mercedes claims it's a giant leap for van-kind.
Our Sprinter on test here is a 316 L3 H2, so not the biggest but a good size nonetheless. If this isn't really what you're looking for from a new Sprinter, you shouldn't worry as Mercedes offers more than 1,700 variants of the new Sprinter, including 6 body styles, 4 power options, 4 body lengths, 3 cargo heights, 3 drive options and over 600 items of standard and optional equipment. The chances are, there's a Sprinter within that dizzying array of variations that suits your business just perfectly.
Since 1995, the Sprinter has won more than 80 awards, so Mercedes-Benz is rightly proud of its largest van. This new model comes with a healthy selection of new technology and features, even standard Sprinter models get a 7-inch touchscreen 'MBUX' infotainment system, DAB radio, Active Brake Assist, Attention Assist, automatic headlights, and even keyless start. The 'MBUX' system (meaning 'Mercedes-Benz User Experience') has been inherited from the firm's passenger cars, and if you're at all familiar with Amazon's 'Alexa' or Microsoft's 'Cortana', the ability to say 'Hey Mercedes…' to your Sprinter followed by a request or a command will be a most useful feature, particularly if paired with an upgraded navigation system and the new Mercedes PRO connect system. That system connects drivers, vans, and fleet managers together allowing for the sharing of information in real-time and its more than easy to see how that could be useful in a busy fleet environment.
So, we know it's got a host of new features and comes in a variety of forms but how is the new Sprinter to drive? There is a little apprehension when you drive a large van for the first time. Is it going to be easy to see out of? Will it be easy to manoeuvre? You've a few questions in your head like this before you climb aboard but the new Mercedes-Benz Sprinter is the type of machine that gives you confidence as soon as you begin to drive it. If you're new to driving a larger van this will take little to no adjustment as when driving around town the Sprinter doesn't feel as big to wield as it actually is. Visibility from the mirrors is exceptional and the reversing camera mounted to the top of the rear is a must-have feature as far as I'm concerned.
Crucially, Mercedes has made sure that the seating and ride is of a high standard, so longer journeys in the Sprinter aren't overly wearing on the driver, it proved to be just as comfortable as many modern passenger cars over the several hours spent at the wheel.
At its highest specification, the new Mercedes Sprinter is probably the most technologically advanced light commercial vehicle you can currently lease. Businesses running multiple vehicles will undoubtedly benefit from the sharing of information that Mercedes PRO connect can provide, while drivers will find the addition of improved navigation and the MBUX infotainment system a massive plus.