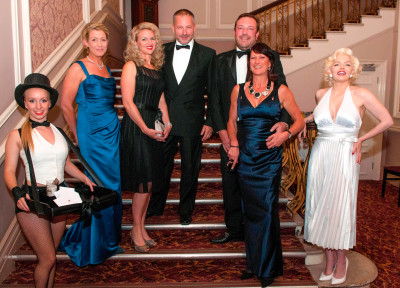 The business community has helped rocket The Rainbow Fund's campaign to new heights after a ball raised £40,600 to provide vital equipment for the children's department at Harrogate District Hospital.
Wide ranging companies generously donated exclusive raffle prizes and auction items at the Hollywood Bliss Ball held in Harrogate to boost funds for the registered charity, which has raised over £120k since launching in February. This figure includes securing £25k to enable the premature baby charity, Bliss, to recruit more volunteers for neonatal units around the country.
Special guests at the event included Leeds based Jack Laugher who, together with Chris Mears, clinched Britain's first ever diving gold medal and Yorkshire's first medal at the Rio Olympic Games after winning the 3m synchronised springboard.
Principal event sponsors comprised CNG, Slingsby Gin and Synergy Automotive – the exclusive corporate partner of the fund which also supports the needs of children in the local community and Martin House Hospice.
Said Alexandra Vere, founder and fundraising volunteer: "We are extremely grateful to everyone who supported our ball by attending and spending generously – or by providing the wealth of auction items and raffle prizes.
"Our fund is run entirely by volunteers – with every penny raised contributing to a lifesaving, life enhancing piece of equipment or to provide a positive experience for a poorly child. Once again, Harrogate people and businesses have stepped up and done us proud."
Equipment secured to date to make a difference to the lives of children includes a transport ventilator and vital signs monitor. Funds have also facilitated the refurbishment of the Children's Outpatient department and created a fifth consulting room there, to enable it to see 3,000 extra children a year.
Photo ©Paul Harness www.paulharness.co.uk