How does Audi's electric dream shape up? Jonny Edge takes a short drive in Audi's e-tron, the German firm's first electric vehicle.
Nobody can deny just how good modern SUVs are at making travel on the decaying UK road network a relaxing and pleasurable experience. Any manufacturer now serious about having a presence in the motoring world now builds an SUV, and here's another from Audi. This time, it's a bit different though.
For a start, this new Audi SUV isn't carrying a 'Q' name like its siblings. It instead goes by the name of 'e-tron', a science-fiction inspired moniker that should immediately tell you this isn't a normal car, and that's because this is Audi's first pure-electric car.
Not that you'd know when you first set eyes upon it. Audi has decided that an electric car doesn't need to look drastic and different in order to stand out from the rest of a range. This looks a lot like a normal Audi Q5, with some extra styling and design cues taken from the new Q8 - Audi's flagship SUV. This is a real positive for anybody who doesn't want to feel like their zero-emission vehicle publicly advertises their environmental options by having a design that boasts "I've got an electric car" to the rest of the world.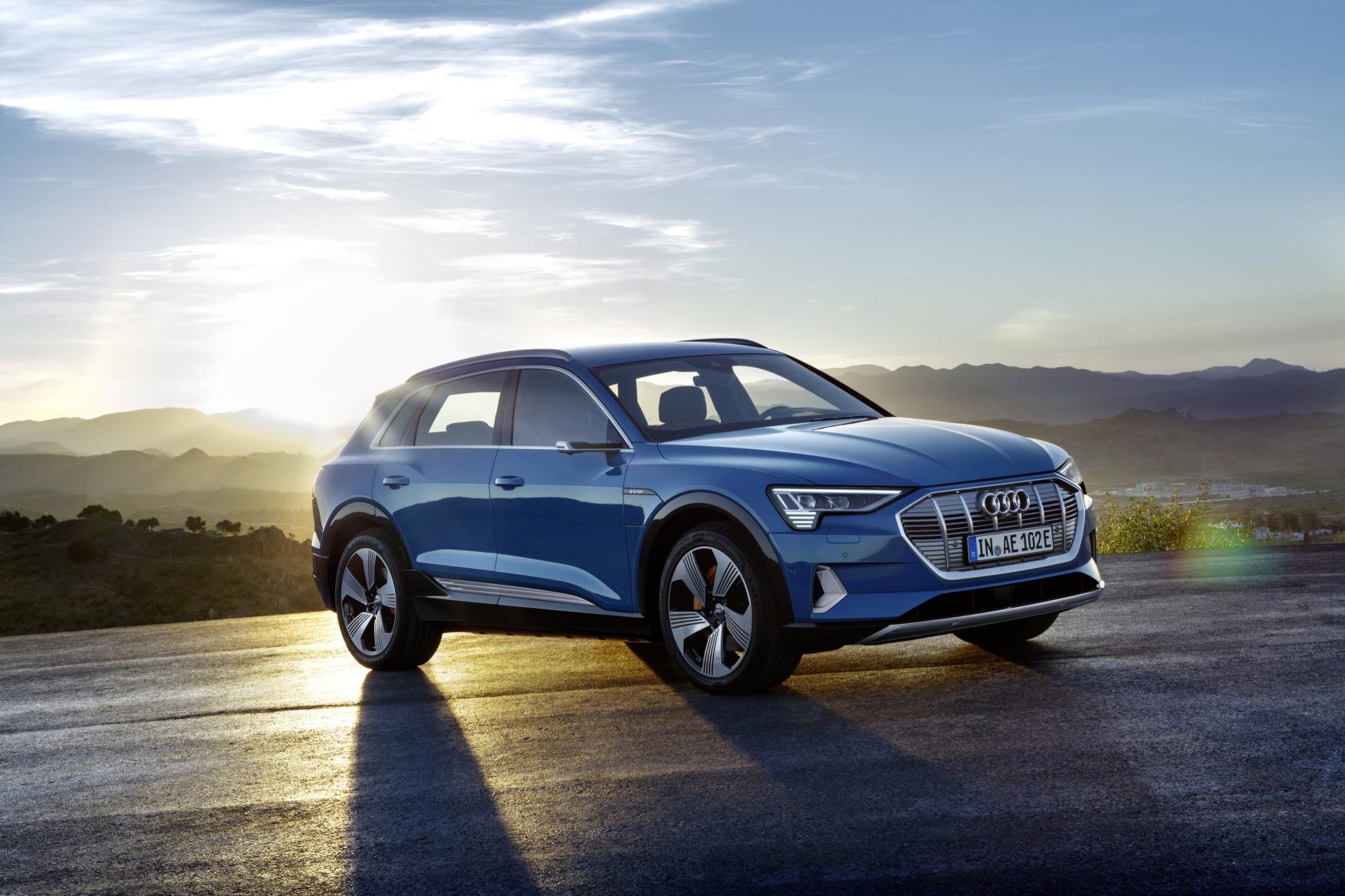 If you've any experience with how Audi's SUVs feel already, you're in for a similar experience when driving too. The way the steering feels - accurate without being too heavy - and the seating position feel very familiar and the interior layout is similar to the new Q8, a tech-heavy layout featuring 3 digital screens. The rest of the cabin is the usual Audi affair, very high-quality fit and finish with rich materials that make the car a comfortable and relaxing place to spend your time. How you drive the e-tron is going to be different to the traditional combustion-powered Audi SUVs, though, with regenerative braking meaning you'll be spending far less time pressing the brake pedal once you get used to it.
If you decide to hit a curvy road – which I did at one of the toughest testing routes in the UK – you'll find that the weight of the e-tron is noticeable, and while the car never feels like it's struggling it certainly feels like a big old piece of car mid-corner. That'll be because it weighs in at a staggering 2,490kg – pretty close to the weight of a Rolls-Royce Phantom. 700kg of that is the battery pack, which sits low in the middle of the car and directs power to 2 separate electric motors, one for the front wheels and one for the rear. They work together to provide all-wheel drive and the e-tron is capable of some light off-roading, so you don't need to compromise on SUV capability with this electric-only machine.
Under the bonnet you won't find an engine, but you will find a small 60-litre compartment for the storage of electric charging equipment, while the boot holds 600-litres. In the rear seats there's good levels of headroom but space for knees could be better, especially given that this is a near-5-metre long car.
Now for the big question – how far will it go on a charge? Audi claims it'll do 248-miles which is impressive, though we are starting to see one or two EVs that are now pushing the consumer-attracting 300-mile mark. However, for where this car will mostly be found – affluent urban environments- the range will be absolutely fine and if you're wanting to jump from combustion power into a zero-emission luxury car, the Audi e-tron makes a superb first impression. If this is going to be the future, 9 out of 10 people are going to be able to live with it very comfortably indeed.